Cadiallic Restoration 1923 Classic
Emmerson Brother's Cadiallic Story
Cadillac 1923 Restoration beauty.
The 1923 Cadillac is a family heirloom. Emmerson Brother's Cadillac Story
Passed down from Grandfather Henry Form by, Scott and Craig Emmerson have tackled the daunting task of restoring it, with special help from PJs Panes. PJS Panels have used time-honoured methods to repair and restore classic and muscles cars for over 15 years. The restoration of the Cadillac required painstakingly sanding back through several layers of paint before applying the new Battleship Grey colour to exactly replicate the cars original colour.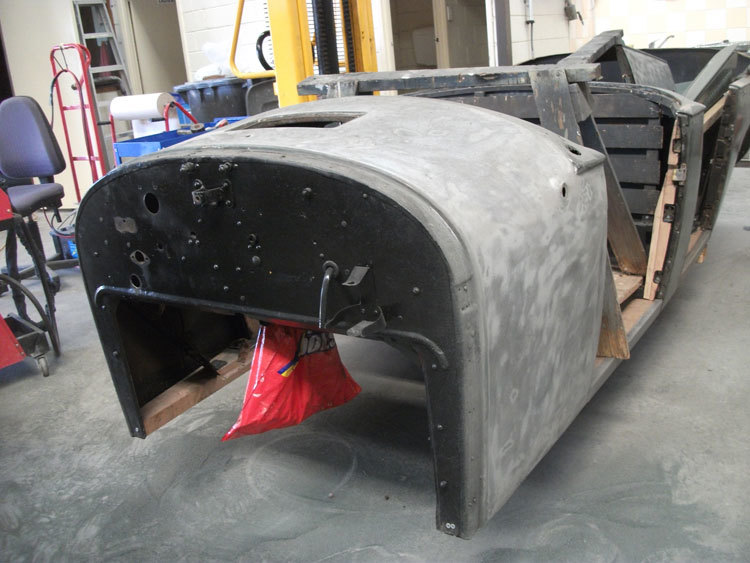 Car History
Sometimes passion for classic cars runs through generations in a family. This is certainly true of twin brothers Scott and Craig Emmerson. They are the grandchildren of Henry Formby whose name is synonymous with Cadillac and the La Salle Cadillac Club in Australia.
He rallied his 1912 and 1923 Cadillac for two and a half decades and alongside Ken Moss and Dave Fiechtne, founders of the La Salle Club in 1970. Henry became known as the Cadillac Guru of Victoria and was definitely the person to go to for advice and information.Scott and Craig have inherited their grandfathers dedication to restoring these historic vehicles. Scott is currently embarking on a faithful restoration of the 1923 seven-seater passenger Cadillac, bringing it back to life after it was nearing retirement.
Built in April 1923 in the USA, the car was imported to Australia by a farmer who lived in Nhill, just out of Horsham Victoria. The original colour was Battleship Grey, which was a standard colour. At the time of production, there was a limited choice of colours: maroon, blue and grey. Special colour options were available but most cars were ordered in one of the three standard colours.
In the 1920s, at a time when a T-Model Ford cost around $200, a Cadillac would have been $5,000. Often the Cadillacs went to wealthy businessmen in the cities but many went to sheep and cattle station owners around the country areas.
The car was known as a reliable, well-engineered car, not as pretty as cars like the Packard or Piece Arrow but it was a rugged, reliable, big American car. A special feature of this Caddy was that it was fitted with a set of wire wheels explains Scott. These were the mag wheels of the day. I have researched over 250 Cadillacs that were built in 1923 and there were only four or five that were built with wire wheels. With the all-American version, they kept the straight Hickory wheel. The wire wheel would have been a major upgrade at the time.
Arrival In Australia
After its arrival in Australia, the car was driven around Nhill for about 10 years before being finally registered in 1933. The original 1933 number plates are still on the back on the car. Over its driving history, the vehicle went through a succession of owners, travelled thousands of miles and finally ended up in an area east of Melbourne.In the 1950s, Scott grandfather was involved in stock car racing and in 1958, he heard about a car that might be great for stock car events. He found the car abandoned in a paddock. It was a little run down but generally not in bad shape. Henry Form by took one look at the car and decided it was too good to be crashed or bashed at the Saturday races and decided to restore it instead. He fixed it up, repainted it and put a new top into it.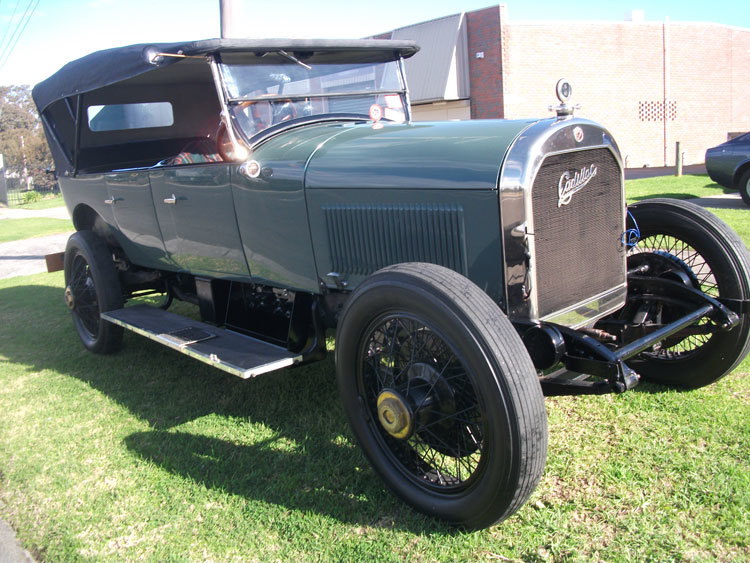 By 1959, it was back on the road, fully repaired and Henry was using it as an everyday motor vehicle. He used it for everything; he trailered other things behind it; and even used it to go on a holiday in 1964 travelling around Mildura, Swan Hill, then on to Adelaide and back again. It was on this trip that he met the original owners from Nhill. Through speaking to them and sourcing the original owners certificate, Henry made sure the carS history was well documented.
The car has been on many trips ranging from right up into Queensland to all around New South Wales because my grandfather was the person to go to if you needed a part for an old car which was anything from a Model T Ford to a Cadillac to a Packard. He would know where it was. Scott continues.Currently, under the front seat, there is a 1962 Shell map that is entitled Veteran Recover Itinerary, which is one of the road trips my grandfather took in 1962 around South Australia and Victoria trying to find Cadillac parts.
Car Restoration Melbourne
The Cadillac has sat dormant in a shed into the late 1990 . This turned out to be very good for Scott and Craig who were now then old enough to work on it. They started a full motor rebuild as well as brake rebuilding, and made sure everything mechanically had been inspected. They did not undertake repairing the woodwork or the paint at the time as they knew it was going to be a massive job. Scott is now ready to restore the vehicles paintwork and has handed it over to PJ's Panels in Dandenong South to undertake this special task. PJ Panels have used time-honoured methods to repair and restore classic and muscles cars for over 15 years.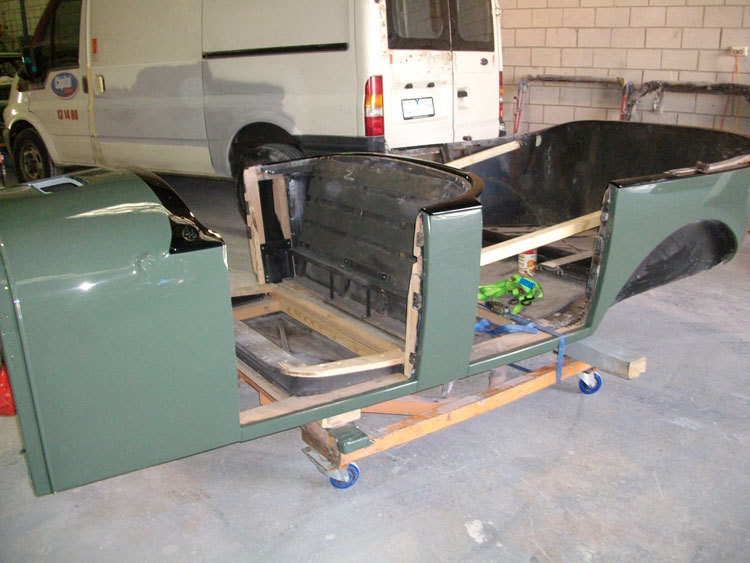 The restoration of the Cadillac required painstakingly sanding back through several layers of paint before applying the new Battleship Grey colour to exactly replicate the car original colour.
There have been a couple of setbacks for the enthusiasts. The car has blown a couple of conrods in its time. In this particular model, the V8 engine had counterweights placed onto the crank, which balanced out the V8 better. The model had a fork-and-blade conrod, built with a right angle where the bolt goes through on the conrod. This caused a fatigue stress point.
The two brothers were caught out on a trip to Adelaide for the Birdwood to Bay Rally in 1988 after they had just rebuilt the motor. The conrod had blown as they came out onto the Monash Freeway.
This massive two-foot tall con rod blows out of the motor and nearly wedges itself into a Jeep Cherokee bonnet! Scott recalls. We rescued it. We got the bits of all three con-rods that have broken in the car like a wall of shame Now 15 years since the last motor rebuild, Scott chooses not to rev the engine too hard any more.
My grandfather is reputed to have done 60 to 70 miles per hour all the time in the car,? explains Scott. The 1912 and '23 were the fastest things on the road when our grandfather was behind the wheel! The cars only got a mid-range ratio differential now and we find that at 80 km per hour, the motor is really revving now. Its much happier below that. Its easier to stick to below 80 km per hour and it still gets you there in plenty of time.
I guess the 1923 Cadillac is a fun car, a nostalgic car and it always been known as the Formby familys car. Having been owned by the one family since 1958, it does feel like an heirloom we cant let go of it. We look forward to the adventures we create over the next 90 years with the Caddy, he concludes.
PJ'S PANELS YOUR LOCAL CLASSIC RESTORERS