Panel Beaters Dandenong South
Panel Beaters Dandenong
Panel beaters near me in Dandenong. Panel beating and smash repair experts near me Dandenong.
We specialize in car resprays, hail damage, bumper repairs, accident not at fault claims. Accidents that are your fault, Fiberglass repairs and Classic car restorations.
We pay your insurance excess simple as
If the accident WAS your fault
Record the details of the person you hit
Call us with YOUR insurance details
Get paid the excess amount direct to you
Call us today 039 701 6098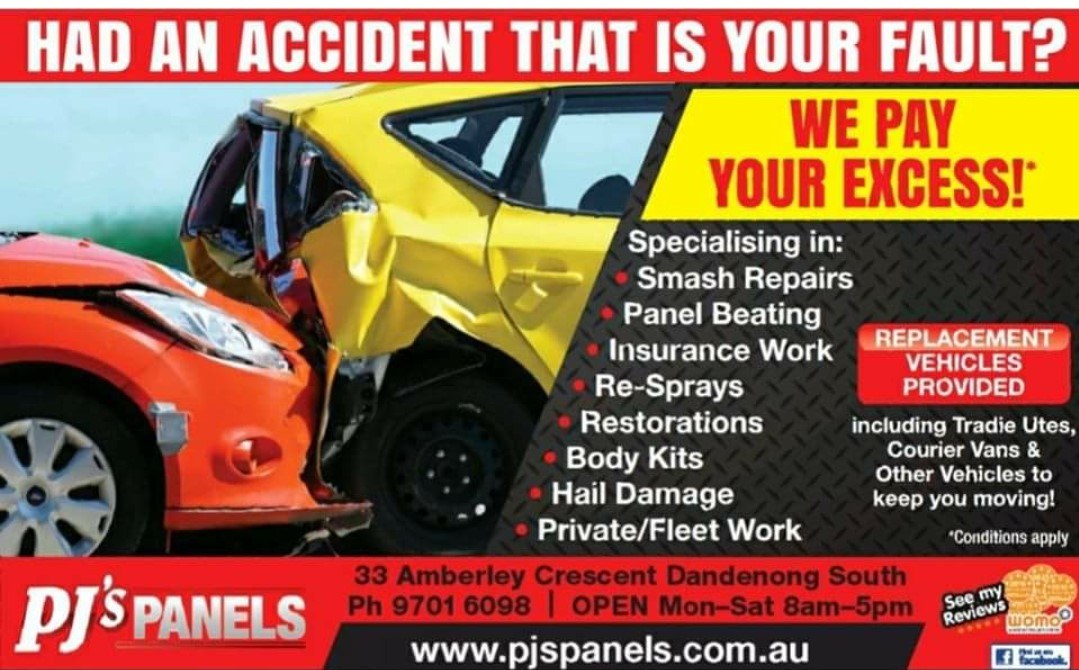 Your local smash repair shop in Dandenong are here to assist you in ll your car accident repair needs.
Paul the owner has the passion with over 40 year's in the trade you can rest assured that there is no job that he has came across that he has not fixed.
Audi repairs, Jeep car repair, Hyundai repairs Ford smash repairs, Holden repair or even Nissan car repairs near me he has fixed it.
Being involved in a car accident is always a hassle, but it is especially inconvenient if it wasn't even your fault. At PJ's Panels we understand how much stress such an incident can cause, which is why we provide our not-at-fault drivers with a range of services, all geared toward making your experience as hassle-free as possible.
You will also receive a replacement car, while we are working on repairing your vehicle. Our friendly team members can also help you with your insurance claims.
Accidents do happen and the main questions we are asked is how much for the repairs? Will the repairs be under the insurance excess amount? If you have the details of the person you hit we will Pay your insurance excess. That's right we will pay as long as the other person repairs the car with PJs Panels we will pay the insurance excess.
Also providing that person with a replacement vehicle at no cost.
You'll still be able to get to work, school and anywhere else you need to go – making the PJ's Panels panel beating experience truly stress-free.
Car respray in Dandenong South
Car resprays near me Dandenong. Seeing an old paint job come back to life is a what we are proud of.
Our customer's have a three year warranty on all of our bodywork and refinishing work that will put your mind at ease. Call to find out more 039 701 6098.
Hail damage is a fact of life in Dandenong. and is one of the main reason cars need dent removal. Our hail damage repairs show we are one of Dandenong most experienced hail damage repairers.

PJ's Panels based in Dandenong area has repaired over 300 hail damaged vehicles since the March 2012 hail storm that swept across Melbourne. Our experienced staff will ensure your vehicle is repaired back to original manufacture specifications. Our quality workmanship that stems from our passion for classic cars, means you can rest assured that your vehicle is being treated as though it belongs on the show room floor.
Panel beating near me Dandenong?
We believe that our main job as panel beaters is to reduce the stress that drivers feel after a crash or accident. Give us a call and we'll take care of the panel beating process from beginning to end. We extensively service Melbourne's south east. Dandenong, Endeavour hills, Narre warren south, Berwick,
Accident not your fault claims.
Had an accident not your fault? We will provide you with a replacement vehicles at no cost to you. You need to have the details of the person that hit you and they have insurance. which means you can run errands and get to work – meaning you won't have to bother using painful public transport whilst your car is being repaired.
Dandenong panel beating experts near me.
Dandenong clients prefer to come to us, knowing we offer superior services including:
Panel beating
Smash repairs
Bumper repairs
Fiberglass panel repairs

Hail damage repairs
Car resprays
Accident not at fault claims
Classic car resprays
The PJ's Panels team have over 70 years of combined experience repairing vehicles of all shapes, sizes, models and makes. Cars are our life, and we love to get them looking and running beautifully. All of our knowledge and ability will go into color-matching, retouching and fixing up every part of your vehicle to bring it to a pre-crash state.
If you're unhappy with the look of your vehicle, let our expert color-matching and re-alignment services work their magic and have your car looking fantastic again. Talk to us at PJ's Panels today
Our highly skilled and qualified team have been hand picked to make sure your repair is done right the first time. Boasting over 70 years of combined experience. Working in and around vehicles of all kinds for this long has given us a great deal of knowledge when it comes to car models and makes – and making sure that they look factory-fresh when our work is complete.
Feel free to ask about our pick-up service – we'll collect your vehicle from anywhere in Melbourne's south and drop it off again once we're finished. We can even provide you with a free loan car to use while we're working on your vehicle, so you won't have to miss a single appointment or day of work.
Not in Dandenong? Don't worry we also service: