Panel Beater's near me Springvale
Has your trusty vehicle gotten into trouble? Have you received some costly quotes for professional car repairs, but still don't feel like the panel beaters you've spoken to can do the job right? Talk to us at PJ's Panels. Our team has over 70 years of combined experience touching up, fixing and repairing vehicles throughout Melbourne south East
We offer best workmanship, honest quotes and affordable panel beating in Melbourne south East. Our quality workmanship and unmatched customer service is driven by our passion for cars, and for people.
We pay your Insurance Excess
If the car accident was your fault. PJs Panels can help. Easy as
Have the details of the person that you hit
They are happy to have the repairs repaired by PJs Panels
You call us with the claim number
You get paid
Simple as that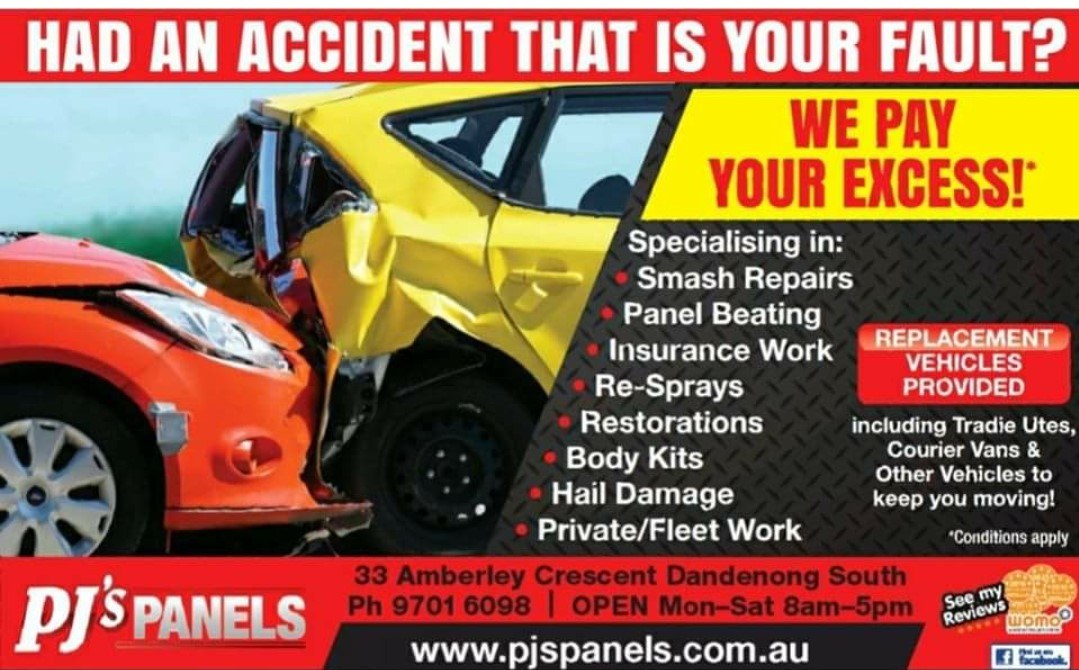 Springvale panel beating experts.

In PJ's Panels, Springvale customers have found a repairer who can do all the hard work for them, including taking care of insurance claims. We offer expert:
Panel beating
Smash repairs
Bumper repairs
Fiberglass panel repairs

Hail damage repairs
Accident not your fault claims
Been in a car accident that wasn't your fault? The last thing you want after sustaining damage to your car is the hassle of trying to organise the repair. As well as worrying about the insurers you also stress about the ability of the panel beaters and how your car will look once it's returned to you. With PJ's Panels that's no longer a concern.
As well as helping our clients with their insurance claims, we offer a superior repair service that uses only the best original parts and high quality paint. When a car accident isn't your fault, it doesn't seem fair to have to run around trying to organise repairs for your car only to then be without transport.
With extensive experience in the industry, we know how to work with insurance companies to provide you with the best solution. We offer our 'no fault' clients courtesy cars at no cost and can even tow your vehicle for free. Best of all, you can rest assured your car will be returned in excellent condition.
Don't leave your car to just anyone, trust the experienced team at PJ's Panels for prompt and professional service. Call today and speak to our friendly staff 1300 545 363
Not in Panel Beaters Springvale? Don't worry we also service: