Panel Beaters near me, Noble park

Covid-19 has hit a lot of hip pockets. PJs Panels are here to assist.
We understand that residents in Melbourne and the rest of the country for that matter have done it hard in the last few year's now.
PJ's Panel's want to take the stress away by.
WE WILL PAY YOUR INSURANCE EXCESS
Why you say? Because it is our way of thanking you for your business.
Accident was your fault?
Follow the easy step for your insurance excess to be paid by PJ's Panels
Easy as 1,2,3
Have the details of the person you hit
As long as the person you hit agree to have the repairs done by us.
Call us up with the claim number
Get paid easy as that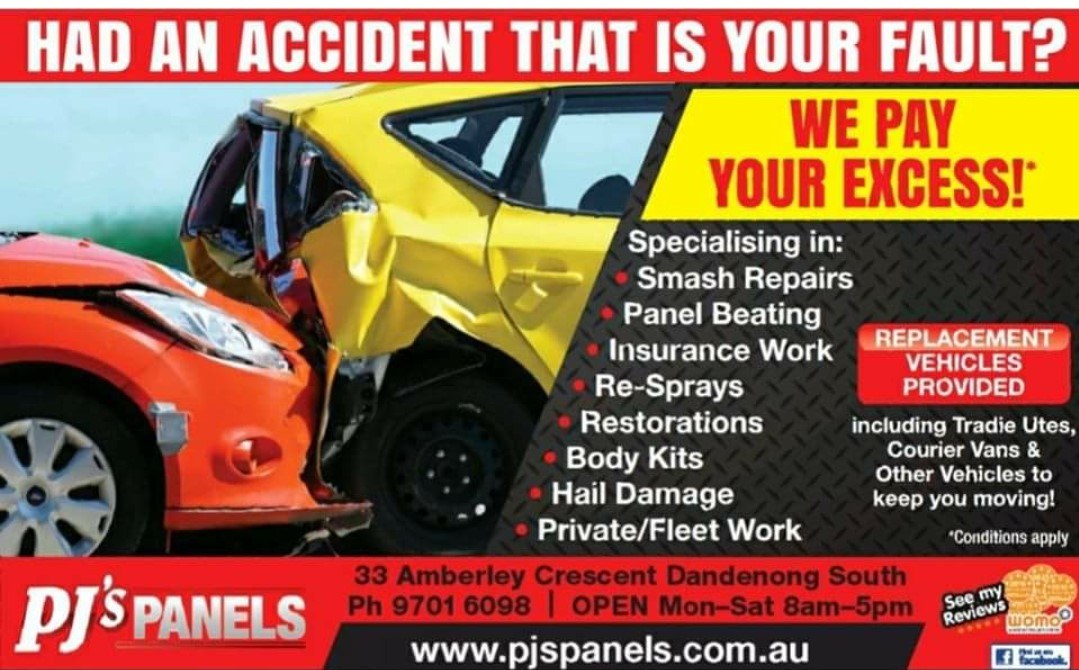 Dandenong South is where our panel beating shop and we have over 70 year's of combined experience that will make you car like new.
If you're commuting into the city – or any of Melbourne's northern or eastern suburbs – then it's very important to have a car that's fit to drive. However, an unforeseen accident or minor collision can quickly have your vehicle in a state you're unhappy with. If this has happened to you, then get in touch with us here at PJ's Panels.
Noble Park panel beater's near me.
Replacement car to keep you moving
In the meantime, you can use one of our replacement vehicles to keep you moving and at no cost to you. No Covid-19 risks meaning you won't have to bother using painful public transport whilst your car is being repaired.
Noble Park panel beating experts near me.
Noble Park customers have found a repairer who can do all the hard work for them, including taking care of insurance claims. We offer expert:
Panel beating
Smash Repairs
Insurance excess paid to you
Bumper repairs
Smash repairs
Fiberglass panel repairs
Hail damage repairs
CAR RESPRAYS CHEAPER THAN YOU THINK
A professional car respray may be scary as the cost involved. Paul at PJ's Panels takes this into account and will talk the best option for you.
It may be cheaper than you think for that amazing car respray. call the experts today 039 701 6098
Our color matching capabilities are the best and our state-of-the-art Du Pont painting system will ensure that your vehicle has an attractive, uniform finish, regardless of what repair work we're carrying out.
We can easily fix up any chipped or rusted paintwork and give your vehicle's look a new lease on life.
Not in Noble Park? Don't worry we also service: